Chiltern Hundreds

Our services
102 - Daily service
High Wycombe - Beaconsfield - Gerrards Cross - Uxbridge
103 - Mondays to Saturdays service
High Wycombe - Amersham - Watford
104/105 - Mondays to Saturdays service
High Wycombe/Chesham - The Chalfonts - Gerrards Cross - Uxbridge
106/106C/107 - Mondays to Saturdays service
The Chalfonts - Beaconsfield - Gerrards Cross - Wexham Park Hospital - Slough
Route map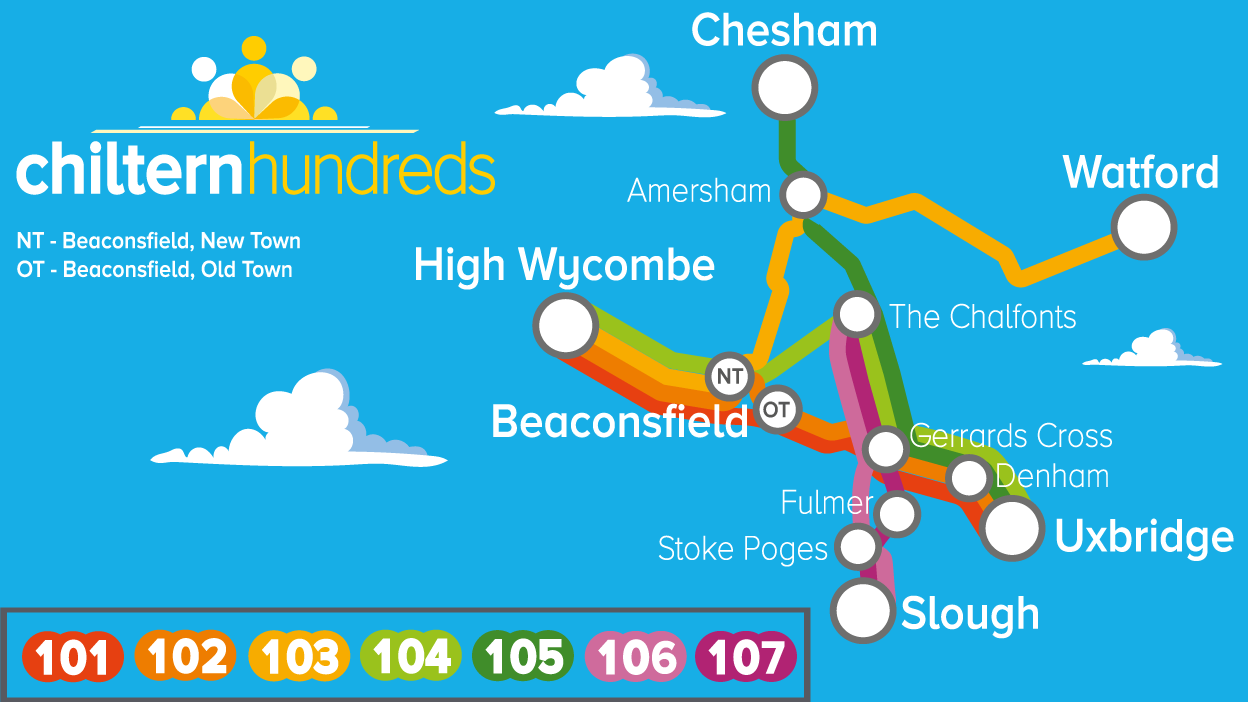 Frequent buses
The Chiltern Hundreds network offers frequent buses:
Routes 102-104 combine to provide a bus up to every twenty minutes between High Wycombe and Beaconsfield.
Routes 104-105 combine to provide up to two buses per hour between Uxbridge and The Chalfonts.
Download the Chiltern Hundreds leaflet - Valid from 24th October 2021 (PDF 1,7MB)
Tickets
We have great ticket options for you to enjoy a great day out in Buckinghamshire!
Day tickets - zone A/B/C
Buy a day ticket valid in zone A/B/C. It will allow you to travel on all Carousel services within Zone A, Zone B and Zone C. It's only £9 for an adult! Find out more.
Family Rover tickets
The £12 Family Rover tickets (up to 2 adults and 3 children) are available on all Carousel Buses services. Perfect for a family day out! Find out more.
Good Journey

Visit the Good Journey website to check out all the great things to see and do in Buckinghamshire from Chiltern Hundreds buses.