£2,000 bonus for PCV drivers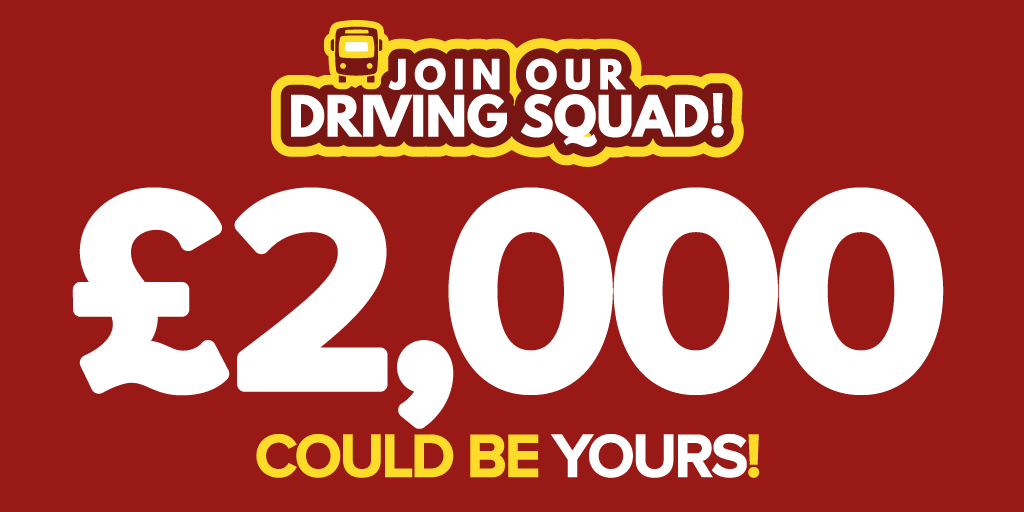 Are you a PCV driver with a full CPC licence and 12 months CPC?
Join our team and benefit from our £2,000 reward scheme!*
Here's what you need to know:
At Carousel Buses, we're committed to recruiting talented individuals who want to work in a business which values their contribution to delivering an ever-improving customer experience, whilst working as part of a team and striving for continued success.
The PCV Driver Recruitment and Retention Bonus Scheme is intended to encourage current PCV drivers who hold a full CPC licence and a minimum of 12 months CPC (Certificate of Professional Competence), to join Carousel Buses. The spread of the payments encourages the driver colleagues to continue their employment with us.
How does it work?
If eligible, payments will be made to you in 3 parts as follows:
1st payment of £500 - first payday after driving in service independently.
2nd payment of £500 - 6 months after successfully passing their probation period.
3rd Payment of £1,000 - 12 months after successfully passing their probation period.
Eligibility and T&Cs:
To be eligible for this scheme and the continued payments under this scheme, the PCV driver must meet the following criteria:
They must not have previously been employed by Oxford Bus Company, Thames Travel, Carousel Buses, City Sightseeing Oxford or any other Go Ahead Group subsidiary.
They must be employed with the company at the point each payment is due under this scheme, in order to be paid. No payments will be advanced and no payments will be made if they have left the company at the point the payment is due.
They must sign an agreement which outlines the rules of the scheme in order for any payments to be made.
All payments are subject to normal deductions of tax and national insurance.
If the PCV driver leaves within 6 months of the final payment being made, a pro-rata amount would be deducted from them equivalent to 1/6th of £1,000 for each month not worked up to 6 months.
The decision of the employing manager to offer or refuse employment will be final and may not be appealed under this or any other Company Policy. This policy forms no part of Carousel Buses' Recruitment Policy and there is no guarantee that an offer of employment will be made under this scheme.
This scheme does not form part of any contract of employment and may be withdrawn at any time without notice.
*PCV Driver Recruitment and Retention terms and conditions apply.
Next steps?
You can apply to our current PCV driver positions via our website: www.carouselbuses.co.uk/careers or contact us if you have any questions.