Park&Ride Cressex Connect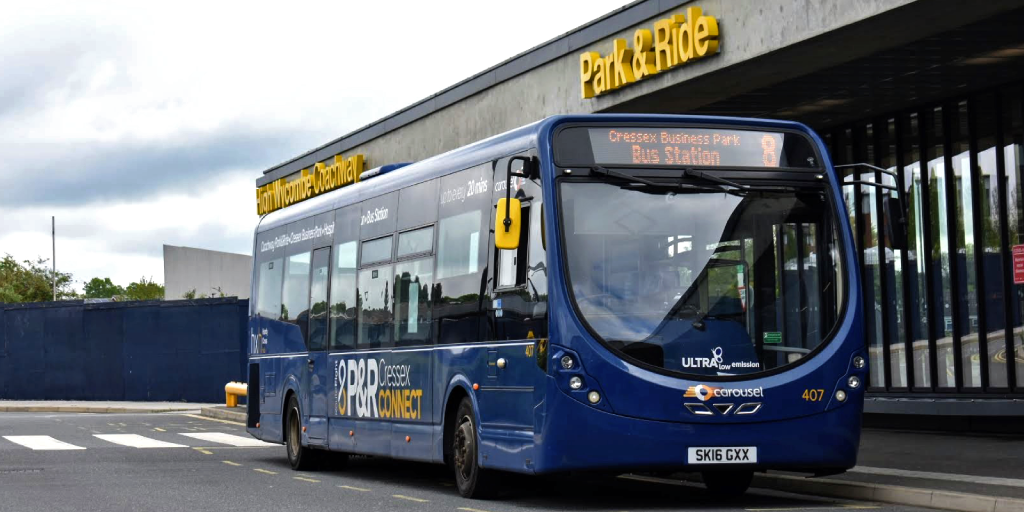 Why travel any other way in High Wycombe town centre or Cressex Business Park when you can enjoy free parking at High Wycombe Coachway and travel from the Coachway for free Monday-Friday!
Buses 8 and X8 operate as the Park&Ride Cressex Connect, serving High Wycombe Coachway (Park&Ride), Cressex Business Park and High Wycombe town centre.
Bus passengers benefit from:
FREE parking at High Wycombe Coachway for our Park&Ride and airline passengers, for up to 96 hours.
FREE travel to and from the Railway Station for weekly or longer Chiltern Railways season ticket holders.
Great value fares, including 10 trip and monthly passes.
Fares
Browse our range of great value fares here.
View the timetable and route map
Park&Ride Cressex Connect buses call at Coachway, Cressex Business Park, Hospital, Railway Station and Bus Station.
Click here to view the timetable and route map
Parking
The car park is signposted from junction 4 on the M40 (Handy Cross) and from the A4010 at Chapel Lane. For sat nav purposes the nearest postcode is HP11 1TJ.
The car park is managed by Buckinghamshire Council. Please use the below details for all queries or comments about the Coachway site or parking:
Phone: 0300 131 6000
Email: handycrosshub@buckinghamshire.gov.uk
Parking charges were introduced at High Wycombe Coachway however, Park&Ride and the airline passengers can continue to park free of charge for up to 96 hours, by following the below steps:
When entering the Car Park, ANPR Cameras will identify your registration, issue a ticket and raise the barrier. Keep your ticket safe.
Board the bus as normal but please ensure you receive a voucher from the driver for parking. Keep this safe, you will need this when paying.
On returning to the car park, proceed to the car parking payment machine and insert your parking ticket. Once the cost of parking is shown, scan your voucher to validate your free parking (there is a call button on the machine to use if there are any problems).
Retain your parking ticket, although the exit barriers should automatically rise once registration is recognised, the ticket can be used to raise the barrier.
Please note there is a vehicle height limit of 2.1m.