Wycombe Smartzone announces fare changes
5 months ago Wed 23rd Feb 2022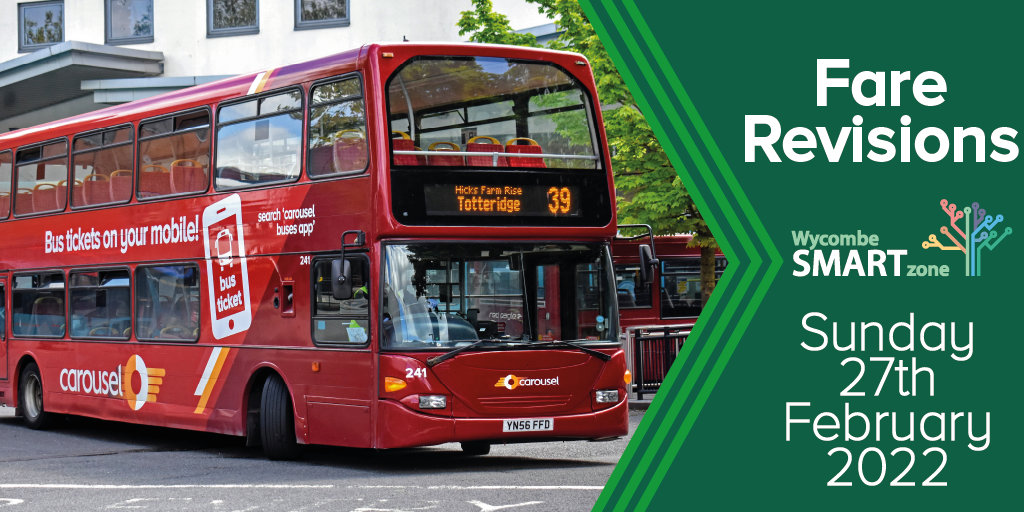 Group day, 4 Week and any 5 days passes frozen
Minimal increases on fares for day, week and 10 trip passes
Wycombe Smartzone has announced that fares for its group day, 4 week and any 5 days passes have been frozen for 2022.
The Smartzone bus companies, comprising of Carousel Buses and Arriva, have confirmed prices for day, week and 10 trip passes will have an inflationary increase from 27th February 2022. The changes include a 10p increase for a day ticket, 50p for week passes and £1 for adult 10 trip passes.
In a joint statement, the Wycombe Smartzone operators, said: "We are committed to continuing to deliver a great service at an affordable price for our passengers. In the current climate it is fantastic news that we're able to continue to freeze some fares. This ensures bus travel remains the most cost effective and sustainable way to travel in the area."
Wycombe Smartzone extends from Holmer Green in the north, to Wooburn and Bourne End in the east, to Handy Cross in the south and to West Wycombe in the West. It was launched in 2020 to provide passengers with a choice on buying an operator specific ticket or one where customers can travel on routes operated by the two main bus companies serving the Wycombe area. In 2021 it launched a full range of U18 tickets, following a successful pilot scheme.
Wycombe Smartzone was originally launched after the bus companies' set-up costs were match funded via a top-up grant from Buckinghamshire Council, who also brokered the partnership.